FUE Hair Transplant
Effective and affordable baldness treatment
The FUE hair transplant is currently the most optimal way to successfully restore your full head of hair. FUE stands for Follicular Unit Extraction. This baldness treatment allows for the removal of individual follicular units or grafts, each containing 1-4 hairs. This is a major step forward from the outdated FUT method, where the surgeon has to remove a whole strip of skin from the patient's scalp.
What is the procedure of a FUE hair transplant
---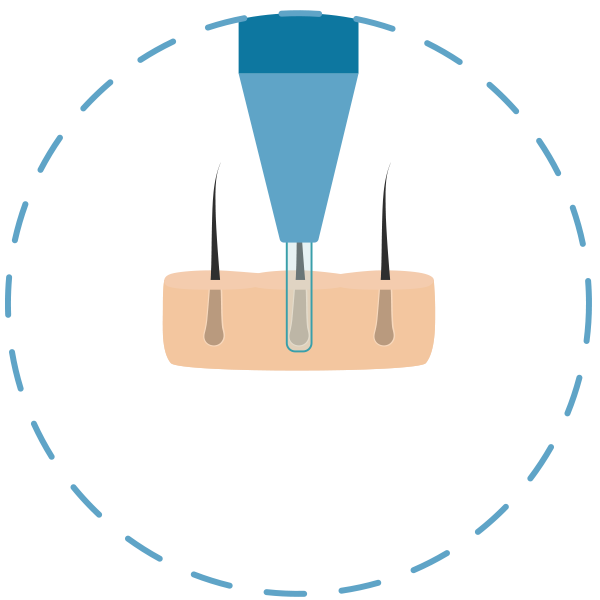 1) Loosening with micromotor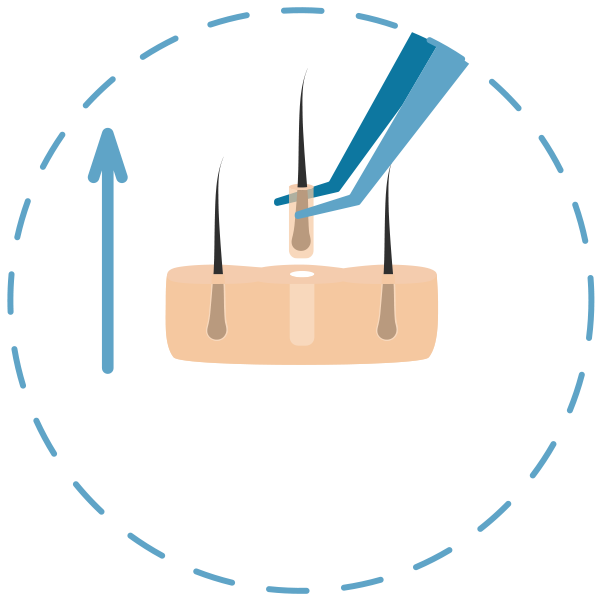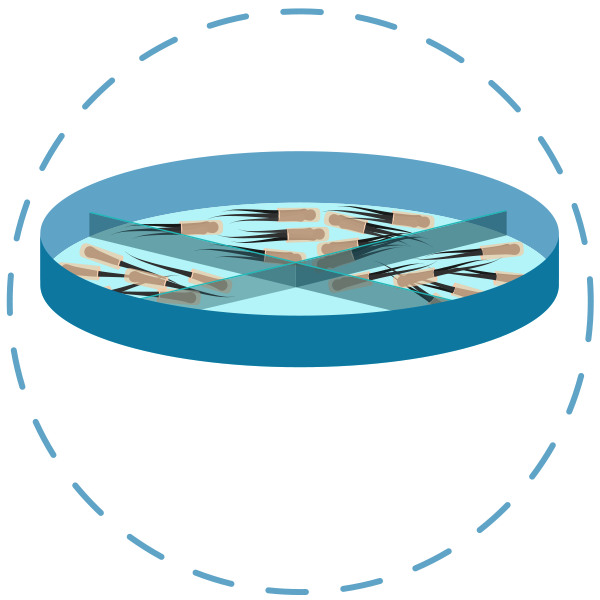 3) Store in nutrient solution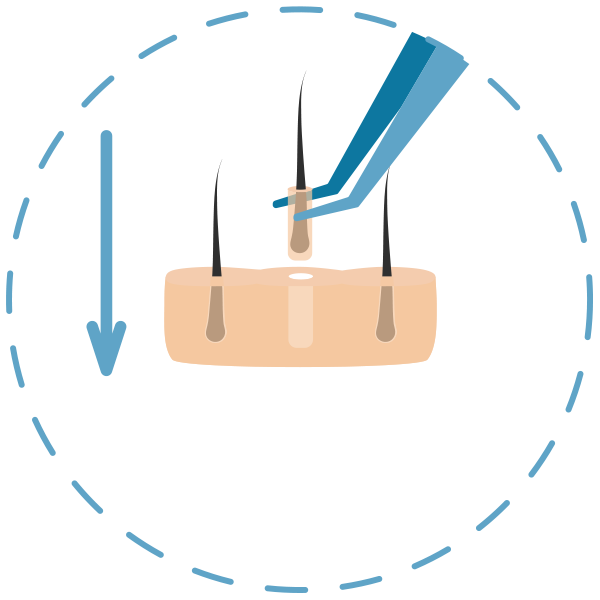 In principle, FUE surgery involves 4 stages :
First, the surgeon creates punch incisions around the hair follicles and then extracts the hair grafts from the donor area. This is done under local anaesthesia. Here, it is very important not to damage the follicles, otherwise, they will not be able to properly settle on the recipient area.

The grafts are usually harvested from the back and the sides of the head, as they are normally most densely covered by hair. Also, the hair in these areas is more resistant to DHT, a hormone that triggers hair loss, meaning it can naturalise better on the previously bald spots.

Then, the grafts are removed with the help of a hollow needle. One graft may contain about 1-4 hairs, which are extracted at once. After that, the grafts are placed in a special nutrient solution that contains biotin. This solution ensures proper storage conditions for the grafts, while they are cut off from the body's natural nutrient supply. Moreover, it stimulates cell growth and enriches the grafts with active elements to increase their survival rate after the implantation.

As the last step, the surgeon creates incisions on the recipient area and then populates them with the hair. Currently, the FUE hair transplant with its variations is the safest and most effective baldness treatment available. For this reason, we do not perform FUT surgery at our clinic.
What are the advantages of the FUE hair transplant ?
---
The FUE method requires a high level of precision and takes longer to perform, but it yields excellent results and is less stressful for the patient. You do not have to worry about having any wounds on the back of your head. The small punctures made with the special surgical instrument heal quickly by themselves.
An FUE hair transplant is a highly successful baldness treatment that gives a natural look to the patient. When performing FUE, the doctor must take into account the direction in which the natural hair grows and implant the removed hair according to this direction to ensure the most natural-looking results. Even though the procedure itself takes longer than FUT, it allows for the transplantation of up to 3000 grafts per session, which is still a quite considerable number. If an FUE hair transplant is executed properly, the survival or naturalisation rate of the implanted grafts lies between 90 and 100 per cent.
Another big advantage is that the recovery time after FUE is much shorter compared to the one after FUT. This is due to the minimally invasive nature of the surgery. Normally, the patient can return to his or her work 7-10 days after the treatment.
In a FUE baldness treatement, only tiny punctures are created on the scalp, that will heal quickly. You will not have a linear scar that the patients are left with after an FUT transplant. This is especially beneficial for those who want to wear their hair short. Besides, less invasion means a smaller risk of getting an infection or developing any other complications.
How much does a FUE hair transplant costs ?

The price of the FUE hair transplant are a bit higher than those of the older FUT method, due to a more sophisticated technique and the longer duration of the surgery.

As said, the downtime is very short after a FUE and the patient can go back to their normal lives after a week. Please be informed, that the transplanted hair will most likely fall out within 3-8 weeks after the surgery. It is absolutely normal, as the new and healthy hair will start to grow after that and become visible 3-4 months after.
With Elithairtransplant, benefit from 10 years of experience with the FUE technique
---
FUE hair transplants have been practised worldwide since 2004. Elithairtransplant's team of specialist surgeons led by Dr Abdulaziz Balwi have been performing FUE since 2009. Before the surgery, you will be examined to make sure that you are a suitable candidate for FUE. If the decision is positive, we will prepare a personalised cost plan for you. If you wish so, we can also take care of all the travel and accommodation arrangements.
At Elithairtransplant we make sure that everything runs smoothly during your medical trip to Turkey, by taking over its entire organization. We will plan your trip from start to finish so that you can prepare for the surgery in peace without having to worry about the organisational details.
Naturally, a contact person will be at your disposal at any moment during your stay and will be happy to help you with any matter.
What is included in a FUE hair transplant procedure done in Istanbul ?
---
As described, the FUE hair transplant has clear advantages for you. If you are interested in such an intervention, we will gladly prepare a cost plan for your surgery and take care of the complete process.
This includes, among other things, the preliminary examination, in which we clarify in detail whether this form of treatment is even suitable for you.If the conditions are correct, we will immediately prepare your personal cost plan. Furthermore all our packages for the actual hair surgery comprises all the necessary additional examinations for the baldness treatment. At Elithairtransplant we make sure that everything runs smoothly during your medical trip to Turkey, by taking over its entire organization. From the on-site accommodation in Istanbul to the the transport from and to the airport. All you need to worry about is booking your flight tickets.
We will thus completely organise your journey from start to finish, so that you can prepare yourself for your transplantation without having to worry about further details and questions. Of course, you'll always have a contact person at your disposal throughout the entire stay, who will gladly help you with any matter.
Do you have more questions ? Then don't hesitate to contact our friendly team that will answer all your queries. Furthermore they can also propose a free and non binding hair analysis. So don't hesitate if you want to benefit from Dr. Balwi and Elithairtransplant's expertise for a successful and affordable hair transplant in Turkey !  
TAKE ADVANTAGE OF A 100% FREE AND NON BINDING HAIR ANALYSIS
---
Ask now for a free, non-binding hair analysis. Our experts are at your disposal 24/7!